I am exhausted. And I may even be writing this just to get that point across. I am also writing this on my 30th birthday – which is apparently a significant thing. Apparently, I am now old, can be officially called an 'Uncle', and as my parents and relatives subtly remind me – my prospects in the arranged marriage market have now taken a deep hit. I am also writing this 2 days after my birthday celebration which involved the highest rate of alcohol consumption and (rather short lived) general feelings of invincibility I have experienced in the last 5-6 years – a combination that culminated in my very own "I AM A GOLDEN GOD!" moment (OK maybe not that dramatic). I am also writing this after a full day and a half of (completely necessary) recovery. But more importantly, I am writing this at the end of a wild, wild summer.
I AM A GOLDEN GOD!!
The idea of seasons took its time for me to get used to. It was at least 2-3 years after my arrival in the US that I realized that I cannot be as active in the winter as I am in the summer. And more importantly, that it was OK not to be going out and traveling all the time in the winter. At the other end of that realization was my effort to be as active as possible during the months of April to October. It is a change in my lifestyle that I have come to accommodate over the past few years, and am now actually quite content with the new mental states that I find myself in at various times of the year.
For the past few years, ever since I started working, I have tried to reach a particular point in my mental state around late October/early November. It is a state of mind wherein I can honestly tell myself, "I have done everything I possibly could this summer, and now I am ready for the winter." I have been largely successful these past few years in achieving that state of mind around October/November – just in time for the winter to set in.
This year, I reached that state of mind in the first week of August.
This summer has been one long continuum punctuated with concerts, music festivals, weekend travels, night-outs at bars, work, poker, games of Settlers of Catan, games of bags (a.k.a Cornhole), lots of records and CD shopping and of working out. It has had its moments – from very intense and stressful to very peaceful and relaxing. 4 trips to Chicago, 4 to Kansas City, twice to Wisconsin (including my 4th visit to House on The Rock is as many years), 3 music festivals, 3 night-outs at an establishment that I'd rather not specify (one of which culminated in my rather memorable 530 AM question "Is that the fuckin' sun?"), 30+ bands seen live, a month long stay in a resort at Storm Lake (for work), God only knows how many gallons of alcohol consumed, late late nights (more like early mornings) at the neighborhood bar, God only knows how many new friends made, and all this while working on a high profile highway project in the state of Iowa.
This is probably the point I post a meme summing it all up: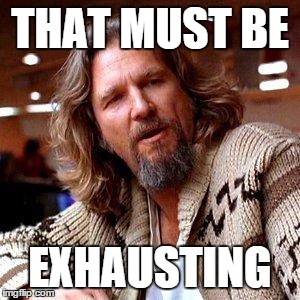 Yes. It was really exhausting. And I would do it all over again.
In all seriousness, I reached a point of complete exhaustion the first week of August. I had been on a non-stop schedule of weekend travel/concerts/general fun for over 3 months. And after my trip to Milwaukee the first weekend of August, I just felt I was done – which was really understandable. But the fact that I did not have any concerts/travel scheduled for the next 3 weeks made the timing just spot on. So the break was most welcome, which I spent doing exactly nothing. (OK I will admit I continued my obsession with Japanese crime novels during that time.) And towards the end of August, I got my energy back and was traveling around all over again.
In the end, I look back at these past 6 months with a sense of satisfaction that I haven't felt in a while. This satisfaction came with a new found appreciation for just being fortunate enough to have the time, resources and physical ability to do all the things I did. It also came with a sense of pride for realizing that my passion and curiosity for exploring what's out there are not going away. It came with the true understanding that I am really only as old as I want to be. It also came with the realization that I have a group of friends that I can truly depend on, and a neighborhood that I can call my own. This is the closest I have come to feeling like I am home here in the US, and I truly feel fortunate that I have all this.
My 30th birthday celebration was probably the last 'exhausting' activity this year. My concert calendar is now empty till January, and I am going sober for the next 4-5 weeks. But perhaps, more importantly, my parents are going to be here a week from today for a month. What better way to do the cool down lap this year than just feasting on mom's food? There may yet be one final weekend trip this year where I get to take my parents out.
But all in all, I can confidently say that yes, I am indeed ready for the winter.