As part of my continuing effort to lead a stress free lifestyle, I decided to try something new. I decided that I would not make any decisions for a full weekend*. This was largely inspired and based on the ideas of 'Decision Fatigue' and 'Ego Depletion'. In a nutshell, those two ideas convey the fact that the human mind only has a limited pool of energy or resources that can be drawn to evaluate options and make decisions on a day to day basis. It also follows that after a long session of decision making, our ability to make correct (or any) decisions decreases significantly because of this mental fatigue. I guess in a way, this is a fairly elaborate academic way to explain the seemingly banal idea of 'getting stressed out'. But you get the point. Making more decisions takes away more and more energy from your mind leaving you tired at the end of the day. Activities such as doing nothing or sleeping help replenish that source of energy for use at a later time.
Minimizing the number of decisions we make is a fairly popular approach to reduce stress levels. Steve Jobs and President Obama both implemented this idea in their everyday lives. And so do professional poker players. I just decided to take it one step further. I decided to make absolutely zero decisions for a full weekend. On Friday morning, my plans for the weekend consisted of me driving to Chicago that afternoon to see Mark Knopfler at the Chicago Theater, stay over at my friend's place that night, meet another friend Saturday evening, and drive back home Sunday afternoon. Apart from this, I had no additional 'plans' to do anything at all. So it was then that I decided to make absolutely zero decisions from the time I left home till the time I got back. To be more specific, I decided to not think about the options in front of me when confronted with a decision. Just pick something and go with it if I really have to make a decision.
So that was how my No-Decision-Weekend started. I listened to BBC or NPR for the whole drive, switching between them only when I got really bored with one of them. Never bothered to explore the dozens of other music channels that Sirius XM had to offer. Reached Chicago and went to see the concert. Mark Knopfler was great, though I wish he had put in some effort – any effort – to actually sing the lyrics to Sultans of Swing instead of just speaking into the mic. But he more than made up for it by singing (and singing well) Your Latest Trick, Romeo & Juliet and my personal favorite On Every Street. So I left on a high, went to my friend's place, had a beer, did small talk and went to bed at 130 AM. NDW Friday was a success.
NDW Saturday started with my friends asking me if I would be interested in an Apple festival that was taking place in Lincoln Square that morning. Clearly, there was a decision being asked of me. And I firmly declined to make it. I would go wherever it was they wanted to go. So, I found myself in Lincoln Square in a farmer's market styled festival with lots of apples and apple related dishes – everything from apple pies, apple donuts, apple sauce, apple on stick, caramelized apples, and a bunch of other appley things that I had no idea about. Now I like apples myself but was never a fan of the sweet stuff that Americans tend to make out of it – like pies for instance. Never liked them. But all that changed because my friend declared that it was time to eat apple pie and drink coffee. Clearly I was not going to be objecting to that as that would require me to suggest an alternative and that involved making decisions. So I got an apple pie with some whipped cream and took a bite of it.
Holy fuck!
You know, there are some times when just the act of eating something makes you feel like all is well with mankind and that everything will be OK in the end. And that at that moment, all that mattered was that you were eating and enjoying that thing. I don't particularly remember thinking of the war in Syria and believing that it was all going to be OK in the end. What I do remember, however, was how that piece of apple pie just melted in my mouth and made me fall in love with a dish that I had actively avoided for a long time. Of course, there was still the coffee to be had, so we went into a coffee shop/bakery and got a coffee. I also found something that looked interesting. It was called a 'Savory Tart'. I had never seen anything like it before, so I bought it. It was essentially a piece of bread/bun with some small amount of cheese along with some caramelized onions and red peppers on top of it. I took a bite of this 'Savory Tart'.
Holy fuck!
It tasted just like the mega-super-awesome-all-award-winning-epic-unparalleled-phenomenon 'Bread Toast' that I used to eat at all the Bakeries back home in Bangalore. 6 years on, this was the first time I had found something even remotely resembling the Bread Toast from back home. Apple festival was clearly a great success!
But we still had an hour to kill after the festival. So we walked into a record store nearby. That record store was clearly planted right next to the festival just so I did not have to make another decision on where to go next. It is known. I had never been to this record store previously. It was a decent sized store with neatly organized records along with CDs, cassettes, movie DVDs and video games. I started filing through the records with absolutely no idea of what I wanted (which is how I usually go about buying records anyway). An hour later, I had a problem on my hands. I had 4 albums and had to pick 3 to stay under a 'reasonably exceeded budget'. I had to make a decision. So I just totaled up 2 different combinations and went with the one that cost me more. Ended up getting Illmatic by Nas, Hounds of Love by Kate Bush and Songs in A&E by Spiritualized. Problem solved! (Sorry Slowdive!) But it was only when I went to the counter to pay for them that I had perhaps the most interesting conversation that whole weekend.
There was a guy and a girl at the counter who were managing the transactions. The girl (who was around my age) called me over and I handed her my records. She started punching numbers into the computer.
Girl: It is going to be $80.
Me: OK. Here is my card.
Girl (running my card): Do you want a copy of your receipt?
Me: No
Girl: Please sign this for me.
Me (signing): Here you go.
Girl: Do you want paper or plastic?
Me (still not making any decisions): Anything is fine.
Girl is now picking out a paper bag.
Me: I am not making any decisions today.
Girl (putting the records in the paper bag): Then who is going to make them for you?
Me (pointing at the paper bag): Well apparently, you just did!
We all laugh (including the guy waiting behind me in line).
Girl: If you come back later, I will help you make some more!
I have to admit. That last comment by the girl caught me completely off guard. It took me a few seconds to process what she had actually said and evaluate its potential implications. And it didn't help that there were a bunch of people waiting in line behind me to make their payments. And by the time I realized I still hadn't responded to it, she was already processing the next guy's transaction. I guess I should have asked her her number or something. Or perhaps when she was getting out that day. But oh well, maybe next time.
We then went to Devon St, where the Indian settlement was, for lunch. I already knew where I was going (Udupi Palace) and what I was eating (Bisi Bele Bath). I also knew what I was going to order for my friends (who are American) – Lunch Thali. Once the lunch thalis showed up, I had half a mind to just sit back and watch my friends eat all the different dishes in no particular order or combination – hoping to see them eat HapLa dipped in Paaysa, or mixing the chapathi with all the other items there to make a big fat burrito. But I ended up explaining to them about all the items and what should be eaten with what and in what preferred order. They were able to appreciate it and enjoy it.
That evening, I met up with a friend who was clearly told from the beginning that I would not be making any decisions that night. She suggested we go to a particular bar and met up there. There she asked me if I wanted to go to a different bar, and I simply followed her. At the new bar, she asked me if I wanted to go to another bar and I said OK. I knew a few spots that I would have preferred myself in Chicago but I was clearly not making any decisions that day. So we ended up at the Liars Club on the edges of Lincoln Park. Before we went in, she described the place as a 'divey night club'. I knew what a dive bar was (one of them is my home away from home away from home), and I knew what a night club was (though it had been over 2 years since I had been to one). But a 'divey night club'? That sounded curious.
And when I went in there, it was exactly just that – a divey night club! I would not have put it any differently myself. Great place with people of all walks of life – from bikers to hot college girls to a couple where the guy was old enough to be the girl's father (Hey! Fuck you if you are judging!). And all the people just seemed real. Just like a good dive bar! A place where you could have a good conversation, where the bartenders did shots with you, and here you could even go to the dance floor at the end of the bar to dance to 80's music being played by the DJ! (Special shout out to that mega-awesome Hispanic guy in his late 40's with a dress shirt, dress pant and formal boots dancing all night long, making up his own moves and not giving one single fuck to other's opinions about his dancing. If anything, a bunch of girls went next to him to imitate his dance moves and some went one step ahead and began grinding with him! What a man!)
Great place overall! Thoroughly enjoyed it and stayed there till bar close. I ultimately returned home to my friend's place at 330 in the morning and went straight to sleep. NDW Saturday was an unequivocal success!
Sunday started with me waking up at 7 AM with no hangover. (Smug face!) I had to leave at around noon, so my friend and I went to get some coffee and breakfast at a nearby cafe. Had a great conversation for the next couple of hours and then I left Chicago. Reached home in Des Moines at around 6 and was thoroughly satisfied with my No-Decision-Weekend trip.
I suppose I achieved my overall objective of not allowing any form of stress to develop over the weekend. This was my second attempt at such a 'break', with the first one being done in the company of His Holiness as he elevated his enlightened self to Dr. His Holiness. Stress free vacations are very rare and extremely underrated. Deciding to not make any decisions during a vacation can be very liberating. It does not mean that you are not in control. It means that you have no expectations and nothing at stake. And if you have nothing at stake, nothing can possibly go wrong. In a way, my weekend worked out like the first half of that Jim Carrey movie 'Yes Man'. I pretty much just said Yes to everything my friends suggested, and it made me experience new and awesome things I otherwise would never have come across. So maybe there is some truth in that movie after all!
Screw all the decision making and the unfulfilled expectations that come with it! As The Dude would say,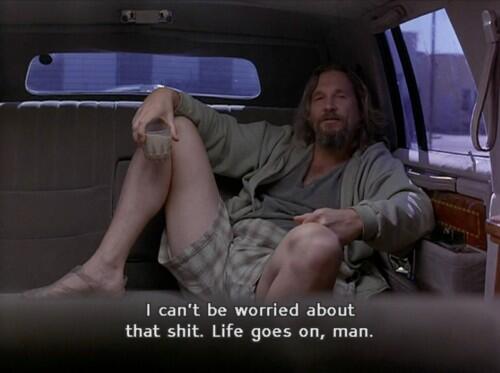 *******************************************************
* Well, technically I suppose that was a decision, but fuck you if you are going to get all technical about it.